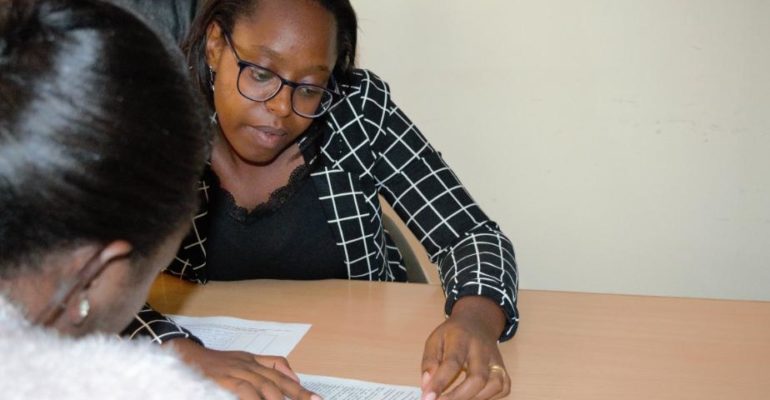 Legal Aid and Psychosocial Support
In line with our mission of promoting and defending the rights of women and children, Haguruka provides free legal aid to women and girls especially the vulnerable who cannot afford or easily access legal aid services. These services include but are not limited to; legal advice, representation, referral, orientation, accompaniment and advocacy.
This support is given to victims of all forms violence including Gender-Based Violence (GBV), teen mothers having difficulty with birth registration, right to alimony, paternity search, DNA application and finding evidence for contested paternity, among others. Through this, Haguruka champions for the rights of children in helping them claim their birth and succession rights.
Victims of violence, especially sexual violence, experience stigma. This is why Haguruka welcomes all girls and women in a safe and confidential space and manner, where they can freely open up, be heard and be treated with compassion and dignity. As GBV victims often suffer from deep psychological wounds, Haguruka provides psychosocial counselling to complement legal aid services given to them so that in the process of claiming their rights, they also restore their mental and emotional health.
While Haguruka offers legal aid services, it also encourages and facilitates mediation particularly among couples and families to help them come to a mutually favorable resolution before engaging any legal means. Normally, Haguruka works with 416 paralegals across the country. There is one paralegal per sector working on a voluntary basis. These paralegals provide support to the community at grass-roots level by resolving problems concerning GBV and family conflicts that in most of the cases result in teenage pregnancies, domestic violence among others. They mainly provide legal advice and legal orientation. In addition, the paralegals link community members to Haguruka's legal aid advocates present at the organization's regional centers for follow up and legal representation where need be.